Hair concerns: Low porosity, rough, brittle, chemically-treated, dyed, bleached, permed, damaged, dry
Suitable for all hair types
WATER, ISODODECANE, CYCLOPENTASILOXANE, DIPROPYLENE GLYCOL, HYDROGENATED
POLYISOBUTENE, DIMETHICONOL, AMODIMETHICONE, OPUNTIA FICUS-INDICA STEM
EXTRACT, ARGANIA SPINOSA KERNEL OIL, SIMMONDSIA CHINENSIS (JOJOBA) SEED OIL,
POLYACRYLATE CROSSPOLYMER-6, CARBOMER, TOCOPHERYL ACETATE, TROMETHAMINE,
PANTHENOL, HYDROLYZED KERATIN, T-BUTYL ALCOHOL, BUTYLENE GLYCOL, GLYCERIN,
BETAINE, SODIUM PCA, SORBITOL, TOCOPHEROL, LEUCONOSTOC/RADISH ROOT FERMENT
FILTRATE, SERINE, GLYCINE, HYDROLYZED SILK, GLUTAMIC ACID, ALANINE, LYSINE,
ARGININE, THREONINE, PROLINE, 1,2-HEXANEDIOL, FRAGRANCE, CAPRYLYL GLYCOL,
ETHYLHEXYLGLYCERIN
Q1. How is the No Wash different/upgraded from the previous Leave-In Treatment?
A1: The new & improved formula is now able to provide heat protection up to 200c against hair styling devices, and has more beneficial ingredients including 3 natural plant-derived oils (Argan, Cactus Seed & Jojoba) and a 7 Amino Acid Complex to deeply moisturise the hair, leaving it soft and smooth!

Q2. After applying the No Wash Treatment Essence, will my hair burn if I dry or curl my hair?
A2: Your hair will not burn if you use a heating tool. Applying the No Wash Treatment Essence creates a protective film around the hair strands that has been clinically proven to prevent thermal damage up to 200c, as compared to when the hot air from a heated iron or dryer that directly touches the hair without any protective film.

Q3. Do I apply the No Wash Treatment Essence before or after drying my hair?
A3: Rinse after washing and towel drying hair. Apply the No Wash Treatment Essence onto lengths and ends. This is to ensure that the nourishing ingredients are able to penetrate into the inner structures of your hair strands.

Q4. I am currently using other hair treatment products. Can I apply this product together?
A4: You can use it with other hair care products! We recommend to pair it with Jung Beauty 7 Second Instant Nourish Water Treatment prior to using the No Wash Treatment Essence for soft & silky hair.

Q5. Can people experiencing hair loss use this product?
A5: People who are experience hair loss can use this product. However, as each individual may have varied reactions, we strongly advise you to check with a doctor before purchasing.

Q6. Can I mix this with hair dye products?
A6: This product is formulated as a hair treatment product and we recommend you to use the products individually to avoid any chemical reactions or allergies.

Q7. Is this product safe for pregnant and breastfeeding ladies?
A7: This product is safe for both pregnant and breastfeeding ladies' usage. However, since it is a sensitive period, we strongly advise you to check with your doctor before purchasing.

Q8. Can teenagers use this product?
A8: Yes! This product is suitable for 13 years old and above!
Customer Reviews
Write a Review
Ask a Question
28 Jan 2023
abelyn q.

Singapore
Nice smell and good application
It does not make my hair feel overly oily and applies very easily. The smell is fantastic and I get compliments on it. No worries when blowing my hair dry / styling with any heat. I don't experience the feeling like my hair being overly dry and frizzy after using the hairdryer. 10/10 would recommend it
26 Jan 2023
JESSICA W.

Singapore
Smoother & softer hair! Hair treatment at home!
Gotten my hands on the upgraded No Wash Hair Treatment Essence! Paired with 7 seconds Instant Nourish Water Treatment bundle. My first time trying both! Love the conditioner as it's really has cooling and warming sensation felt as per description. Applied the No wash treatment before I blow dry, I can feel difference that there is 80-90% less tangling cos during blow drying I use my fingers to run through my hair, and my hair ends usually tangles together! Hair is more tamed and less frizzy! It's really a must buy!
26 Jan 2023
Serene

Singapore
A must for every crowing glory
I was using the previous version (leave in keratin hair treatment) & was v disappointed that it was sold out later, Left my email to be notified if theres restock. Finally, a more premium version NO WASH KERATIN HAIR TREATMENT ESSENCE is here Immediately jump on the promo of get 3 free 1 & bought 8 tubes. Sharing with my mom, mil, sil and sis :) Ive also shared with my gfs to cart this awesome product before it goes oos! This hair essence is lightweight, smells pleasant, no sticky feel on hair, just a little bit of the essence is sufficient, easy to apply on, very reasonably priced too. My hub commented I smell nice & I shared with him this hair essence too ☺️ As a busy mom of two, the fact that this hair essence also provides heat protection, it's time saving & convenient I can use the hair straightener right after applying this essence, not having to purchase another heat protector hair product. Highly recommended :) Thanks ksisters for bringing only the best for us ❤️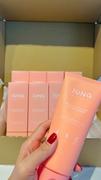 23 Jan 2023
Valerie C.

Singapore
Best thing ever : Says Katelyn
This hair ‍ serum is the best thing ever!! My mum recommended it to me after trying the original version and I absolutely love ❤️❤️❤️it. My hair has been on the frizzy side for my whole life and it was a nightmare to tame it every morning ☀️before school. But now with the Jung Beauty No Wash Keratin Hair Treatment Essence , getting my hair ready for school takes a mere 1 minute 1️⃣!! I don't even need to apply any perfume because the hair essence smells heavenly ✨✨enough. I would definitely recommend it to all my friends ‍♀️!!
22 Jan 2023
Cindy L.

Singapore
Smoothing Nourished Silky Hair Experience with Jung Beauty
Initially skeptical about anti frizzy products as I have tried many products & it didn't work out for my fine hair texture. After my 1st purchase on the 7 secs Instant Nourish Water Treatment, combined using it with No Wash Keratin Treatment, my hair miraculously became less frizzy (I wouldn't say completely no more frizz) & so smooth & silky after the entire wash. Also after washing, I will blow dry my hair & the pre-treament of combining both the products before I apply heat to my hair definitely is a life saver to my dry, thin & frizzy hair texture. My hair also feels so much more moisturized after the blow. So here I am now, restocking more of the products so that it can last me until the next sale. Thanks to Jung Beauty Hero frizz-fighting innovative products that helps me maintain my lovely curls & smoothen locks, I will definitely keep re-purchasing & recommending my friends to use them